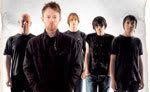 Radiohead won the Best Alternative Album Award for their record, 'In Rainbows'. They also performed a song from the album, '15 Step.' This would be the band's first ever performance at the Grammys. Their performance was backed by the University of Southern California (USC)'s renowned marching band. Radiohead beat out competition from: Beck – 'Modern Guilt', Gnarls Barkley – 'The Odd Couple', Death Cab For Cutie – 'Narrow Stairs', My Morning Jacket – 'Evil Urges'.
Filed under: Best Albums,DJ Gear,Music,Music Events
Written by blakeandrew.
No comments
Trackback Uri